Escort Valerya

When I arrived in Amsterdam, I had no idea that I would end up working as an escort at Divas escorts agency in Amsterdam.
The job as a sex worker was something taboo for me before I came to this country, where people are open-minded and without prejudices, unlike the country where I come from.
After finishing my studies in the country where I was born, and a failed engagement with a very possessive ex-boyfriend, I decided to settle in The Netherlands.
I came here initially to attend the fashion, design, and style courses at the NL Fashion Academy Amsterdam because I had been thinking about being a model for a long time.
It is true that I never had good conditions, and I had to make great efforts to support myself. Financial conditions were one of the important ingredients that made me decide to start working as an escort in Amsterdam.
During college, I never dreamed of being a sex worker in Amsterdam, although I never had problems with those who did that.
You can also choose an escort service, with your favorite escort girl, by visiting the profiles of my colleagues who work at the Divas Escorts agency.
Ever since college, I have had colleagues who practiced this profession, and they told me what wonderful and educated people they met most of the time.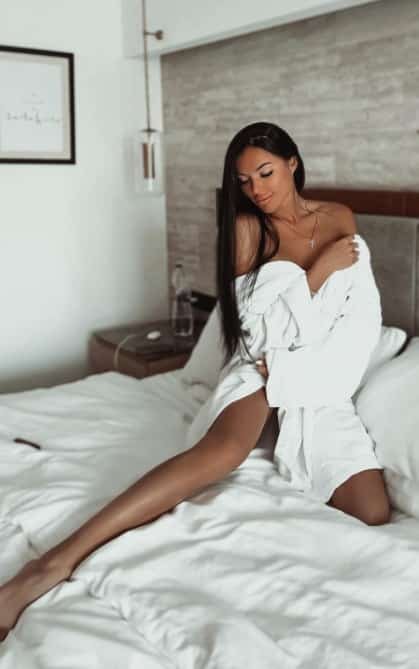 Most of their clients were happy to help them financially in exchange for those beautiful moments spent with them.
I couldn't think that the job of an escort girl could be an option for my financial problems, especially since I was flirting with the idea of getting married, to my possessive and jealous ex-fiance. 🙂
I remember when I arrived in Amsterdam for the first time, I was like a kitten scared by this sea of people, who basically came here in their vast majority to have fun, each in his own right.
23 yers old escort girl
The first time I decided to accept the call girl job escort in Amsterdam, I was 23 years old and I lived with 2 colleagues in Almere.
They have already been providing escort services for about a year, during which they told me that it is not as difficult as I think it would be.
I admit that I was reluctant because I didn't see myself in the position to kiss a man after a few minutes, being a shy girl with a lack of confidence in her.
I was still 21-22 years old and I was still a child in my mind, even if unfortunately there are girls who start working as prostitutes or escort girls before they turn 18.
About two months after I turned 23, I decided it was time to break this barrier and accept the idea of working as an escort.
Problems with the lack of money to pay my rent also mattered, especially the dozens or hundreds of burgers and junk food that my stomach was forced to digest due to the lack of money to buy quality food.
My first job as an escort girl
That evening my friend tells me;
"Hey darling, the agency has a special client, who wants to spend 8 hours tonight with 2 girls. I'm one of them, come with me, we'll drink champagne with the client, talk, laugh and you'll definitely get into the atmosphere. Trust me in me and you will see that things will go naturally and everything will be fine for you. In addition, in the morning when we leave, your problems with money will be smaller, because this client is a generous one"
At a moment when the guard of my principles was on the ground, and my problems were pushing me from behind, I said OK, let's do it.
The appointment with the client was at 7:00 p.m., and Escort Valerya had 7 hours to prepare; waxing, tanning at the salon, manicuring, pedicuring, make-up, creams, and choosing clothes.
I had such great emotions as if I were going to my own wedding, my heart was beating as if it wanted to come out of my chest, but I wasn't focusing at all on the idea of changing my mind, the contrary.
Escort service at Sofitel Legend The Grand
I remember that at 18.30 sharp, the agency's driver came in front of the house, picked us up, and took us to the Hotel Sofitel Legend The Grand Amsterdam.
I entered the lobby, like a scared kitten, locked in a tiger's cage, waiting to be torn apart.
Kissing a girl's lips
My friend noticed that I was stressed, so she took my hand and kissed me on the lips.
For a few seconds, I was confused, but this damn thing really helped me, especially since at that time our client had arrived in the lobby and smiled when he saw us.
This crazy girl of mine, was not only a friend but also an escort girl who knew what she was doing, and yes it worked, now I was me again, relaxed and ready to have fun.
The guy was a like 50-year-old man, he took us both by the arm and we went to his apartment.
Adela, my friend behaved as if he was her lover, whom she wanted to share with me.
Wow, so my first job as an escort was really great, I won't tell you in detail exactly what happened here, but the experience was unforgettable.
First girlfriend experience
The client realized that I am a new girl in the escort business, but the girlfriend experience service that he requested was definitely a pleasure for all three.
I admit that the first time it was a little strange for me to see my friend giving oral sex to a man in front of me. 🙂
However, comparatively, in terms of sexual activity, I had been with classical lovers before; prelude with kissing, then undressed and fucked, then after completion, clothed a cigarette and that's it.
It is true that from then until now, I have been with hundreds of clients, some educated others less educated.
Perverted client escort service
I remember a client who asked me to speak vulgarly to him as if he were a slave.
At that time it seemed to me that this would mean that I would prove my lack of education.
However, the client insisted and paid me 200 euros extra, so I awkwardly took out a few phrases;
eat my pussy
suck my dick
slave lick my pussy
piss on your face
you have a small dick, how are you going to satisfy me?
Come on slave, I want you to come inside me
slave, can you penetrate me hard?
stop being lazy and lick my pussy
At first, it was hard for me to say something, but once I got into the role, I really started to get excited about this job.
Gourmet customer and the escort service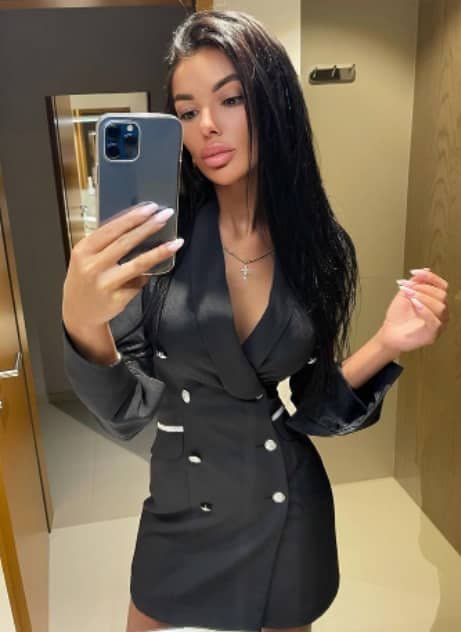 Another incident that stayed in my mind was at the Waldorf Astoria Amsterdam.
The agency sent me a 4-hour job with a strange client who specified that he wanted to eat pizza with me.
I arrived at his apartment at the hotel, and indeed, there were 4 large pizzas on the table and we were two people who totaled a little over 100 kg together.
In my mind, I said wow, you are an escort who is paid to eat pizza in a luxurious hotel, this gives a strange experience.
We undressed and although my client didn't talk much, we started eating pizza, letting the fat flow on us, to satisfy my client's desire.
At one point, my client tells me;
"You are a very beautiful girl, and I get very excited when I watch you eat pizza."
Thank you, I reply, it's really delicious, and I eat it with pleasure.
"It's a fantasy of mine, I like to do this, to relive the memories when my cousin eats pizza with me and I was in love with her, I hope you don't mind this"
It's ok, I understand my clients' fantasies and roleplays, and I'm sure they don't bother me, I answer.
I have moments when I am with my clients, to ask myself questions, strictly to keep my mind occupied.
This time he tells me;
"You are too beautiful to be called Valerya."
I smile and ask him, what would you like me to call you tonight my love?
He also smiles and tells me that he likes my spirit and positive attitude.
I lie on my back, and he starts six walks with a slice of hot pizza on my skin, he starts to lick my clitoris, while biting the slice of pizza.
The french kissing service was really one that I had never done before with someone in this style, not while I was chewing a piece of pizza. 🙂
I thought it was strange, but the experience was surprisingly pleasant, probably because I was a little hungry, and the client was quite generous financially. 🙂
Less pleasant sexual experiences
There are many pleasant sexual experiences with my clients that I could write about here.
It is equally true that I also had unfortunate incidents with slightly aggressive customers, where I preferred to leave without giving explanations.
Unfortunately, there are also these men who consider women to be slaves.
Some of my clients had the impression that for the modest amount of money that they pay, they would be entitled to have harsh and misogynistic behavior in the company of an escort, which is false.
I believe that the manifestation of good education and respect must be mutual.
As far as I'm concerned, the escort job in Amsterdam requires a high level of professionalism, which I strive to offer to my clients.
Take a look to this article to learn about: The sexiest Erotic Massage is offered by the most professional escorts through incredible sexual massage sessions, body to body and happy ending using the most sensual and erotic techniques.
An escort girl bringing happiness
As a professional female escort, most jobs and sexual experiences with my clients are similar.
I like to think that I am a person who brings happiness and that I can help most of my clients feel more confident in their instincts.
I have clients who come as a couple, husband and wife, and clearly, the sexual experience with me has improved their sexual life, because I know how to make them discover their hidden fantasies with each other.
Valerya can come to your place even if not Amsterdam
Divas Escort Agency brings Valerya to her clients for the best escort service following these locations:
Escort Amsterdam, Escort Den Haag, Escort Rotterdam, Escort Alkmaar, Escort Beverwijk, Escort Utrecht, Escort Almere, Escort Zaanstad, Escort Amersfoort, Escort Haarlem, Escort Hilversum, Escort Aalsmeer, Escort Amstelveen, Escort Purmerend, Escort Hoofddorp, Escort Zaandam, Escort Hoorn, Escort Velsen, Escort Heerhugowaard, Escort Wormerland, Escort Koggenland, Escort Haarlemmermeer, Escort Huizen, Escort Heemskerk, Escort Schiphol, Escort Castricum, Escort Bergen, Escort Edam-Volendam, Escort Diemen, Escort Enkhuizen, Escort Bloemendaal, Escort Heemstede, Escort Heiloo, Escort Landsmeer, Escort Langedijk, Escort Uitgeest, Escort Waterland, Escort Weesp, Escort Wijdemeren, Escort Uithoorn, Escort Schagen, Escort Zandvoort, Escort Ouder-Amstel.