Sybil hot babe the story of an Amsterdam escort
Amsterdam Escort Sybil
My name is Sybil, and I am a girl who has been working as a professional escort in Amsterdam for many years. I wasn't born in Amsterdam, but when I visited the city for the first time, I immediately realized that this place would become "my" place, the place where I can feel at home and do what I want.
What attracted me to Amsterdam?
Well, it's a question that is easy to answer. If you want the most tedious and trivial answer, then I could answer you that I love the atmosphere of the city, art, and history. A more sincere answer is that Amsterdam is a very tolerant city, where those who use drugs or want to have paid sex can do it without problems and without being judged by anyone.
But the real answer is another, and it has its roots in my adolescence.
I have always been a very outgoing and easy-going girl who loved to live life and try new experiences. Life is short, just an instant and we die, and none of us has the certainty of reaching tomorrow, so we live we have the duty and the right to have the maximum pleasure in every circumstance.
I don't want to die with regrets, thinking that that day I could have sex with that handsome boy, or I could smoke that particular weed. And I want to have the certainty of having done everything I could to get the maximum pleasure every single day.
There was a big problem, though. I lived in the countryside, in a small town, the most peaceful place in the world, where everyone knew everything about everyone, and there were no secrets.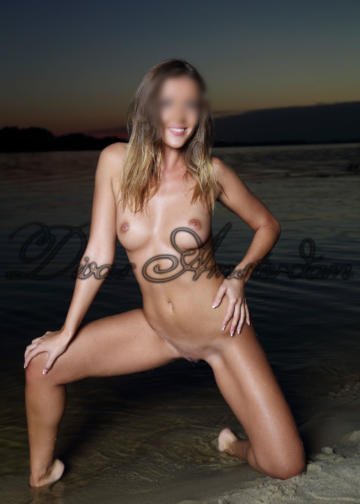 Yes, the worst place for a girl who has my lifestyle.
I hated living in that place, and when I kissed two boys on the same day that news became a national scandal. My mother could not understand what had been her mistake in my education, and my father looked at me with hatred. I tried to spend as little time as possible at home and never talk to my parents unless it was absolutely essential.
But that situation could not last forever, and when I went to Amsterdam on a school trip, I understood what my place was in the world.
Everything I saw generated questions.
You can buy sex toys?
There are places where you can buy weed?
You can smoke weed without problems?
The Red Light District?
It was awesome.
The thing that impressed me most was the red light district, with all those beautiful girls in the windows. I was attracted to them (I'm not a lesbian, I was just curious), and their lifestyle and I tried to have a minute to talk to them.
I had to understand some things.
I finally managed to talk to one of the girls and asked the most important question, the one that would forever change my life.
"Is this your job? Are you having sex and getting paid?"
The girl told me that doing the escort in Amsterdam was considered a regular job at Amsterdam escort service agency and that she earned by having sex every day (except when she was menstruating) with different men.
Earnings were never fixed, everything depended on how many customers you managed to attract every day, and the competition was so much. Every girl had to be always beautiful, seductive, ready to have sex even on the most negative days (we are all human, we all have days where we don't want to do things), or with ugly, old or rude men. Being able to feel pleasure even in those situations was what distinguished the professional from the amateur.
The girl then told me that she was just a simple sex worker and that the real big money was in the hot Amsterdam escort girls sector. She wasn't pretty enough to be a top-class Amsterdam escort girl , but I, according to her opinion, could really make a lot of money.
The girl greeted me, advising me to try that career, and to see what happened.
Those words remained in my mind all day, week, and the following month.
I loved sex, I liked money and making money by having sex was perfect for me. I never thought about becoming a porn star, but being an escort would have been great for me.
I had found my career.
I finished school and immediately went to Amsterdam, where I had already contacted escort agencies, sending my best photos.
My audition was a success, and I started my escort career.
I have never returned home because now this is my home, and I have nothing that binds me to where I was born, not even my parents. A parent does not try to suffocate the instincts of the child to make him live a monotonous life, and therefore I had no obligation towards my parents.
I lived for a few months in a colleague's apartment, to earn the money I needed to rent an apartment, and now I live in a beautiful house and make lots of money, the money I could never have imagined to have if I had lived in the countryside like my own parents.
Am I happy with my life?
Yes, this is what I wanted to do. I pursue pleasure and live a life without limits. I could die tomorrow without regret because I did exactly what I wanted to do.
If I would recommend this life of escort service to a girl?
I do not know.
The girl in the window was right, being an escort in Amsterdam is not an easy job. I had sex with men I despised, and they hurt me, and I did it with a smile, even though I hated every moment and couldn't wait for it to end.
I would say to the girl that she must be sure she loves sex and must be able to do it automatically, without involving feelings in any way. It's not sex, it's fitness. Sex is another thing.
I'm Sybil, a professional escort. This is my life, I chose it, I wanted it, and this is what I will be for a long time to come.